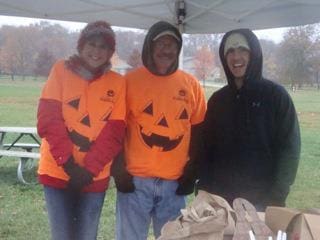 (Note: please pardon the image sizing in this post. Back in the day, we used digital cameras with poor quality and erratic sizing 🙂 )
As we transition from The Great Pumpkin Run to Gourdy's Pumpkin Run, I felt it was appropriate to have our first blog post outline our first race…ever. We will also be posting our first podcast covering the first race soon, so this will be complementary to that.
Before I begin the story, I should introduce myself. My name's Erik and I am one of the founders of Sour Fish Events and what is now called Gourdy's Pumpkin Run (that's me in the photo on the right!) Back in 2012, I was not a runner, although I was a sports enthusiast. I had run exactly one other race prior to that (a 5K in Columbus, OH) and really had no business in attempting to be a Race Director. Alas, I helped create the event idea, wanted to see it succeed, and always subscribed to the idea of trial by fire.
We scheduled our first event for October 27, 2012. The Great Pumpkin Run was to take place at Bonnybrook Farms, which is a gorgeous farm located between Cincinnati and Dayton Ohio. We visited several other farms in the area before deciding this was the perfect fit for our event. Beyond the scenery, it was large, had ample space for pre and post-race activities, and boasted an awesome wagon trail.
Once the event was inked on the calendar, we began planning. We needed to create online ticket sales, rent tents, portable restrooms, secure insurance, recruit volunteers. Marketing? Oh yes, we will need to do that. How? We will figure it out as we go. Crap! Race t-shirts, where do we get those? Chip timing? What is it? Does a 5K need it?  So many aspects of planning this race in the months leading up were brand new to us. We relied on guidance from friends in the industry, Google, and a little luck here and there.
Days turned into weeks and weeks turned into months. Before we knew it, race week was here. It was time to get out of the basement office and head to the farm. I vividly recall getting out of the truck for the first day of set-up. It was the last week of October which is typically fairly cold in the Midwest. However, that Wednesday morning was sun-filled and 72. As the day progressed, it hit a high of 79. In October? I could get used to this!
The next few days were gleefully spent setting up the course in the warm October sunshine. The corn maze slowly swayed back and forth as the breeze rolled across the farm. We spent half a day flagging all 3.1 miles before running to Home Depot to grab some needed supplies. Other days were spent setting up pop-up tents, apple cider tables, packet-pick up, and driving the course numerous times to make sure it was perfect for Saturday. We left the farm Friday evening ready for a picture-perfect race the next morning!
My alarm rattled the nightstand at 3:00AM. As my feet hit the floor, I heard a light rain tapping the window. Okay, this isn't what we were expecting. The truck was loaded up so we hit the road shortly after 3:30AM for the 40-minute drive to the farm. Once there, I quickly realized today was not going to be a walk in the park.
The wind blew the rain sideways as we did our final preparations before volunteers and runners showed up. Gone was the 70 degree days we had taken for granted the previous few days and we were now facing a cool 44-degree morning in the dark, rain soaking our tennis shoes. To say the day started off unpleasant would be a huge understatement.
As we went through our checklist, volunteers started showing up. We checked them in, assigned them to their station for the morning, and kept checking boxes off. Wait. Where was the timing company we had hired to score the event? We frantically called them to learn that they "were running a little late. No worries". Roger that! We will stay calm when the race is less than two hours from starting and the start line equipment isn't here.
The following couple of hours moved at a furious pace. At the time, I felt like we weren't going to get everything in place before the start of the race and wished we could have slowed it down. In hindsight, we really were okay and time moving at a seemingly quick clip probably helped my nerves in the end! The timing crew finally arrived, set-up their equipment, got PA and music going, and we were looking at an on-time start. As runners were corraled behind the inflatable arch, toeing the start line, the frenetic pace turned into slow motion.
The horn went off as did 103 participants. I watched nervously as the small crowd followed our flagged course across the first field, took a hard right, and proceeded down the wagon trail path. They ultimately went into the woods where they would disappear from my view. I remember at the time joking with the guy next to me to the tune of 'well, that's the last time we'll see them!' He gave the obligatory laugh while, deep inside, I truly hoped that wasn't the case.
Minutes slowly passed as we awaited word from our course crew (read: my dad) to radio that the lead runner made it to our first checkpoint. Over a scratchy, cheap radio that had no business trying to cover the range we expected from it came that first message: the lead runner was spotted and still on course! Relief was granted, although it was fleeting as we still had to make sure that runner reached the next checkpoint. Soon after, the next broken radio call came through: there was lots of mud and the UTV was having issues trying to get back up the hill. He had do ditch the UTV and we had to suddenly rely on our course being perfectly marked as we wouldn't know if anyone veered off until it would be way too late.
I stood anxiously at the finish line. watching the red digits on the LED clock tick by. The rain and fog had an almost blur-like effect on the clock, giving off a brief red afterburn with each new second. While my mind kept racing back and forth between the worst case scenarios, our lead runner turned the corner. The spectators that braved the conditions started cheering for him as he approached. I stood in bewilderment as I wasn't sure we had really pulled this off. But we did. And it was awesome.
I knew after that race that this could be something we could make better. I didn't know exactly how, but I knew that we had a blast putting it on and, inexplicably, the runners had fun, rain/sleet/wind/mud and all!
The following days, weeks, and months led to us planning more races, figuring out how we could make each one a little better than the previous, and how we could make this sustainable over the long haul. While we have had all sorts of other race concepts over the years, our fall race has always been our favorite. We have dedicated the last nine years of our lives to it and have watched it grow from a single, rainy, 103 person race to what we think is a much more polished (albeit sometimes still muddy) race series we look forward to growing each year. So whether this year is your first time experiencing the event or you were one of the initial few back in 2012, just know we live for the fall and it means the world to have you there with us!